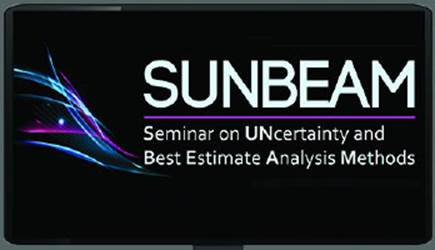 Del próximo 5 al 23 de julio tendrá lugar, promovido por N.I.N.E (Nuclear and INdustrial Engineering), un interesante seminario on-line sobre incertidumbres y métodos de mejor estimación (SUNBEAM). Dicho seminario cuenta con la participación de los mejores expertos en la materia y recorre el estado del arte sobre el uso de metodologías BEPU (Best Estimate Plus Uncertainty).
A continuación encuentras información acerca del registro en este seminario, así como enlaces a información de detalle de su contenido.

Register now
The seminar course provides a transfer of experience and know-how from recognized experts from different organizations (industrial experts, regulators, researchers and university professors) in the fields of Best-Estimate Plus Uncertainty approach including uncertainty methodologies and application in licensing framework, Scaling Analysis, Validation Process of Evaluation Models, development and applications of Multi-physics & Multi-scale tools.
SUNBEAM will address the following subjects for a total of about 70 hours of lecturing:
• Licensing Framework and Best Estimate Plus Uncertainty
• Best Estimate System Thermal-Hydraulic Codes and V&V
• Scaling Issue and Scaling Analysis
• Sensitivity Analysis
• Uncertainty Analysis
• Procedures for a Consistent Application of a BEPU Method in Licensing
• BEPU Applications in Safety Analysis and Licensing Framework
• Reactor Physics and Fuel Performance Experiments and Uncertainty Analysis
• Multi-Physics Multi-Scale Simulations and BEPU
The detailed programme of the seminar course and the registration form as well as additional information about the venue, transportation and the hotels can be obtained from the Seminar's home page: https://www.nineeng.com/courses/sunbeam
The Registration Deadline is May 27, 2021 and you can register online at:
http://www.nineeng.com/courses/index.php?option=com_chronoforms5&chronoform=SUNBEAM_Registration